Witch Spring 2 touts a rather extensive post-game (officially known as the after story). You are guaranteed to enter post-game after you defeat the final boss.
After seeing the credits, Luna will return to her original hideout. After she thinks back on how it was because of that cave that she survived the past ten years, you're free to control her. (Even though the post-game starts in the hideout, if you use the Home spell, you'll still be taken back to the Ice Witch's House.)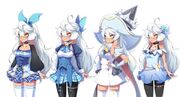 Luna can freely change her outfit in post-game. Along with Luna's Dress and Ice Witch's Dress from the main story (which are located at the bottom of her inventory), Luna can gain another four costumes:
Checker Dress: Buy from Ralph the Merchant (120,000 gold)
Checker Corset Dress: Buy from Ralph the Merchant (180,000 gold)
Chrios: Defeat Aramute in the Mind Room
Sara's Dress: Complete Sara's Quest
Outfits are purely decorative in WS2 and provide no special abilities.
Durok's Gloves: Obtained after completing "Showdown with Temar" and speaking to Durok.
These events only have dialogue, without battles or rewards. Some characters may have regular dialogue after their events are completed.
Community content is available under
CC-BY-SA
unless otherwise noted.